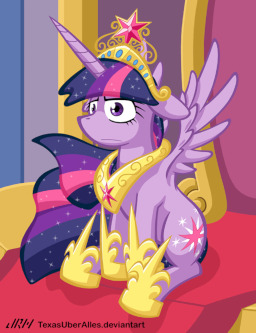 Source
Twilight Sparkle has always admired Princess Celestia. Her fortitude, her wisdom, her eternal grace and love for all her subjects. Twilight has often fantasized about what it would be like to be in Princess Celestia's horseshoes. She never imagined those fantasies would come true.
---
Events take place a short time after the Crystal Empire's return (early S3).
Proofreading from chapter three-onward provided by Daemon of Decay.
Cover image used with permission from TexasUberAlles, thanks!
Inspiration for Sunny Skies from PhantomFox.
Chapters (3)