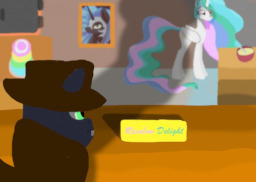 This story is a sequel to Fractured Moon
---
A week after being freed from her prison by Nightmare Moon, Celestia has adapted to her new situation, she is prohibited from being involved in politics or any kind of decision making, Celestia isn't even allowed control over her precious sun. But this has given her the opportunity for a new career and she is about to open her own bakery.
Not all prisons have bars and guard towers. Celestia will experience first hoof how it is to live in Nightmare Moon's Lunar Empire. She will have to learn to be watched constantly and have every move of her observed and noted.
The Lunar Empire is firmly under Nightmare Moon's control, but there are still those that prefer the old way's over the new ones. And of course there is the issue of Rarity's remaining friends, where are they and what are they planning.
---
This is not a direct sequel to Fractured Moon but I still recommend reading it first to get some more context about the founding Lunar Empire and Celestia's release.
---
Set in the Equestria at War universe, but you don't need to play the mod to understand this story.
---
Cover art made by myself
Chapters (8)