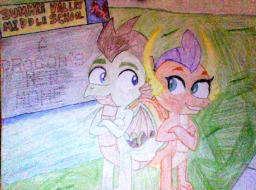 This story is a sequel to A Dragon's Soft Spot
---
After the events that happened just outside of Las Vegas, Aaron and Smolder return for a new adventure back in the real world. This time, they've moved into a new house that has room for the entire family to come and visit. It even has a guest room for Smolder to stay in. And it would let Smolder hide the portal to Equestria in it whenever she and Aaron can go there or for their friends to come and visit them.
But then they started going to their new school, which wasn't like any other school. Not everything was gonna go their way in their school. Especially with all the unfair rules that were put into the school. So they're gonna have to try and bare it. Or try to figure out what was going on in the school.
---
This story will have some voting in some chapters. Only one choice per vote.
Chapters (6)