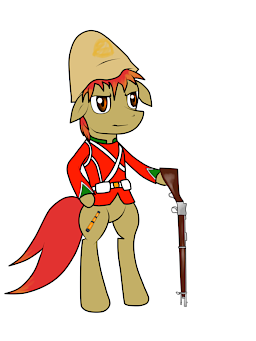 "Gentlecolts, we are the most advanced civilisation to ever grace this fine earth, therefore why should we allow such barbaric creatures such as Zebras occupy what is ours by due right? This is why we are here, and more importantly why you are fighting..."
Equestria has grown, and from a small kingdom it has become the biggest and grandest empire to ever exist.
Fresh from Trottingham Lieutenant Sharp stick has arrived to take charge of a small troop of the princesses Colonial guards based in the Zebrican colony of Hoofal. However tensions are rising between the occupying Equestrians and the native zebras, and the only thing needed is a fuse for the powder keg. The situation grows even more risky as he's slowly beginning to fall for a Nurse. Putting at risk more then just his rank in the Royal guard.
"Zebras sir...Thousands of em!"
Losely based on the movie Zulu Dawn
Chapters (2)