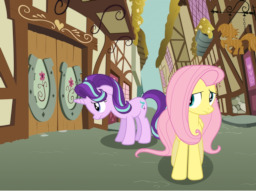 Soft Sticks and Film Magic play Fluttershy and Starlight Glimmer respectively in the TV show Friendship is Magic. But when Film has a falling out with her fellow cast and crew on set, she'll have to relearn the value of the Friendship Lessons she's been teaching from behind the camera.
-- Set in a fictional Friendship is Magic episode. --
---
Written for the Writeoff's first Friendship is Short Shorts Short Story prompt, Crossing Over.
Chapters (1)