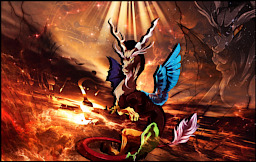 Source
Before the making of Equestria...Before the making of the Princesses...There are two immortal beings that have fought beyond the beginning of time. These two forces have many names, but they are truly just The Light and The Dark. The Dark has rampaged Equestria for centuries, but a warrior of the light may just be Equestria's savior, or it's demise...
Recommended that you read the book series
All rights go to Joseph Delaney and The Last Apprentice series.
Chapters (9)