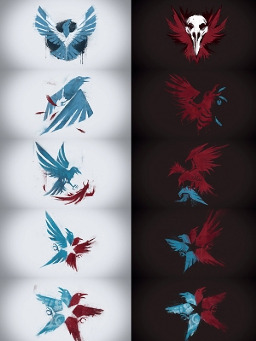 Zeek was an infamous friendless prankster parkourist, he'd climb up to really high places and either defile something by spraypainting on it or drop something gross on someone. Zeek was also a Conduit Positive, He never learned what his power was cause he was drugged soon after the D.U.P caught him, he was rescued by a group of Conduits but still never learned anything about his "power".
But all that would come to an end when he is presented with a choice, either give up his life to save a child's or just run away from the scene. Zeek chooses the former and dies after saving a kid from being run over by a D.U.P truck. Zeek thought it was over until he opened his eyes to find he was reborn in a world known as Equestria, as an anthro colt and Equestria's first Conduit in an orphanage, with all his memories but still didn't know what his power was.
As he grew up, around age 9, nearing 10, Princess Celestia and Princess Luna came to the orphanage looking to adopt a foal and ends up picking Zeek for his 'Uniqueness'. What kind of life awaits him in the world? Will Zeek ever adjust to life as the new Prince of Equestria? What will his power be when it awakens? Will he get friends in this new life? How many nobles will he punch in the face? Let's find out...
A/N: Thanks to new editor; Jason Monroe
Chapters (2)