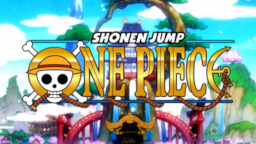 When Twilight finally makes it to the castle in time for the ceremony to begin, Princesses Celestia and Luna officially introduce her as the new ruler of Equestria. However, the ceremony hits a number of snags: Twilight briefly trips on her gown, Fluttershy's animal friends fight with Rarity's star spiders, the fireworks disrupt the Wonderbolts' aerial routine, and the coronation guests are served applesauce instead of apple cider. Worst of all nopony had even realized that Discord's chaos magic that had seethe into the ground ever since their battle with Tirek, Chrysalis and Cozy Glow which is also the day Discord got his powers back from Pinkie Pie. Its only a matter of time before Discord's magic explodes to the upper ground all over Equestria and brings these ponies and creatures to a whole new place! Takes place during Twilight's coronation as sole ruler of Equestria.
One Piece is created by Eiichiro Oda.
My Little Pony Friendship is Magic is created by Lauren Faust.
Please support the official release!
Chapters (18)