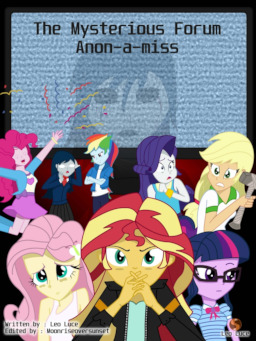 This story is a sequel to You Will Never be Alone : 7 Part Harmony
---
As I said before, this is NOT an Anon-a-miss story.
A mysterious forum, forgotten in time has suddenly been reappearing after 15 years. At first, what seemed like a normal forum dedicated to club activities, seems to be hiding much darker secrets as the forum was able to bring untold horrors into reality. Now it's up to the girls and a new student at CHS to solve the mysteries of the forum, before it can hurt anyone, and close the forum, once and for all.
This is a direct sequel to my previous story "7 Part Harmony", and also a crossover with a horror visual novel I found on the Play Store called "Mysterious Forum and the 7 Rumors". You don't have to read that novel before reading this unless of course if you wish to read that in the future as this will contain spoilers for that novel. Also, I never wrote horror stories before so bear with me.
Chapters (15)