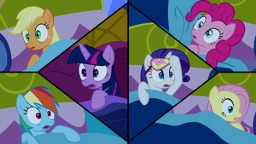 Every season, Rainbow, Pinkie, Twilight, Applejack, Rarity, and Fluttershy get together for their Sleepover.
It's always a night filled with fun. Only, it's a night filled with... a lot of fun. Maybe a little too much fun.
And, believe it or not, by the end of the night...
Even Pinkie Pie just might admit it.
---
Big, big Special Thanks to Ninjadeadbeard, for putting up with my rough drafts, patiently editing through them, and, of course, for being wonderful friend.
Chapters (1)