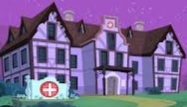 Sombra doesn't need to ask himself what he did to deserve this... he knows everything he did to deserve this: he had won, but now he needs urgent care, he is sick. If he is a good patient, he may get out of... the hospital.
it's more dark than humor. Honestly, this was originally supposed to be horror, but this is how it turned out.
The way its written can be a bit jarring, but it is intended to give the feeling I was looking for, I'm still not sure if I got it right though.
This story is Just a random idea I thought of while discussing another story with a friend. Been sitting on it for a long time, but this is just a story I wrote in a few hours. I plan on working on more projects and hopefully doing much better, feedback is appreciated as I'm still new to writting.
Chapters (1)