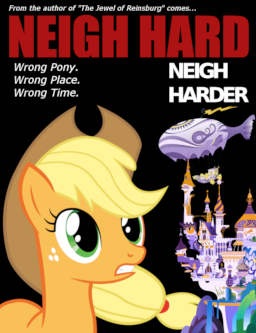 Month's after their adventure in Reinsburg, it's Applejack and Rarity's first Hearth's Warming Eve together as a couple. But instead of spending the special day together, Applejack reluctantly waits at the newly built Canterlot International Airship Dock for Rarity to return from a business trip with Hoity Toity.
But with Rarity's brand new wagon impounded and severe delays caused by a freak snow-storm blowing in from the Everfree Forest, her long night is already off to a bad start.
And things only go from bad to worse for the Element of Honesty, when a group of ex-Stalliongrad Army Special Horses take the Airship Dock hostage in order to intercept a VIP aboard the very airship Rarity is returning on.
It looks like the rough-and-tumble farmgirl is just the wrong pony, in the wrong place, at the wrong time!
You won't just want to Neigh Hard. You're going to want to Neigh Harder!
Chapters (1)