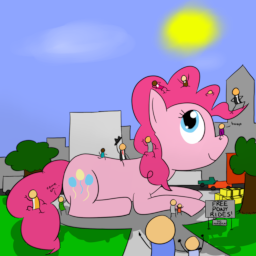 In this anthology of stories, I will explore the various assumptions of so many HiE and PoE fics, including, but certainly not limited to, Language, Size, Ecological Compatibility, Gender Ratios, What Happens If You Become A Pony, and Ease Of Citizenship Access.
I plan to make fun of many things, and will be keeping the stories fairly short, less than around 8k words each.
I will mention any characters specific to a story, because you can only have up to 5 tags active, and some characters will only show up in one story. But the Mane 6 will show up often enough for em to tag them outright.
Story#:
1. 'Little' ? My foot 'Little'...
Features Noi, but there's no tag for the adorable little thing. Prompt by The-Pieman
2. Micro-Pony Party Extravaganza
If you can't guess the star of the show here, you need to watch the show some more.
Chapters (3)