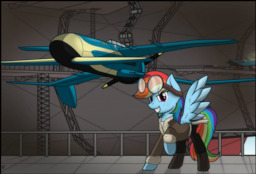 Source
Never more has the zeppelin been important in the world of Equestria since the construction of the very first Safety generation of airships. Usually, the mighty train would be able to take over all forms of transport. But with the development of the safer helium gas on the rise, the airship began to dominate the skies. Mountains, rivers and oceans are no match for those golly giants of the skies.
But with modern air shipping comes modern air piracy. Not since the days of Hoofbeard have pirates so cursed the world of Equestria. Raiding the skies for loot, cargo and even the occasional kiddnapping. These scourges of the skies consistently wage an ongoing battle with the nations of Equestria and many private security companies.
But while many gangs of pirates have been as bloodthirsty as a vampire, there is one such pirate gang that breaks the common tropes surrounding their kind. For they always protect the weak, only steal from the rich and will only fight if their lives are in danger. They are... the Stacked Deck pirates.
Stick around and followed the Stacked Deck on their adventures!
---
This story is a crossover with the swashbuckling sky pirate flight games known as Crimson Skies and Crimson Skies: High Road to Revenge
Chapters (2)