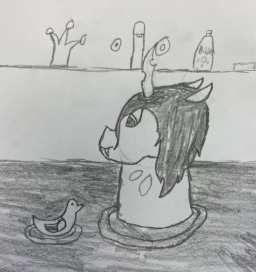 Chrysalis, after getting covered in milk and cereal, and being forced to take a bath, discovers a new interest. Ducks.
Much to her partner, Tempest's, dismay, she becomes slightly obsessed with ducks. How will this pan out? I dunno. Well, I do, but uh, I'm not telling you.
Alright, so, this is an entry into the 2022 Crackship Contest. Also, today's my birthday! Hooray!
So, you may be wondering, "Hero, why is the story so short?"
Well uh, to be completely honest, I kinda wanted to post this on my birthday (today) and I yesterday, and I also had a horrid case of writer's block. So, I can up with the most simple story I could make.
Ooh, also, um.. if this does really well, I might do a Crackship series of my own. Or I might just continue with Tempest and Chrysalis being lesbians. Or maybe I'll just continue this. Iunno.
Anyway, that's all I have to say, enjoy.
Featured 03/03/2022, wow
Chapters (1)