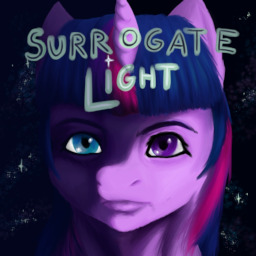 Princess Celestia has dispatched her prized pupil, Twilight Sparkle, to oversee preparations for the Summer Sun Celebration. An unfortunate accident, however, cuts her student's life short. Now another must recover the Elements in her stead, or else Equus will be plunged into eternal night.
With so many of those "X becomes Y in Equestria" Fics bouncing around, I got an idea for one of my own that just wouldn't go away. Rather than let it distract me from my writing any longer, I decided to take the idea, put my personal twist on it, and get to writing! The story is already 100% finished, Epilogue and everything, so you don't have to wait long for updates like my other stories.
Huge thanks to The Spirits Demise for the wonderful cover art, and Azriel for editing and proofreading!!
I have a Discord server for my stories, y'all are free to drop in and check it out if you want.
Chapters (12)