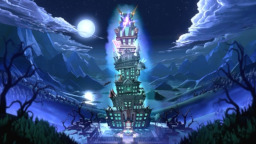 Source
This story is a sequel to Apple Bloom's Mansion 2: the Phantom Valley
---
A few months passed since the terrible events that happened in Evershade Valley. Apple Bloom continues her life as a ghost hunter, constantly on edge knowing that Thanatos, the Spirit of Death, could start another of his 'games' anytime.
Then, one day, she's invited, with everypony else, by Eternal Rest to come to her hotel to pass some good time. This quickly reveals to be a trap, and the filly must climb the haunted hotel to save everypony again.
But this time, she isn't the only one with a Poltergust.
Chapters (5)