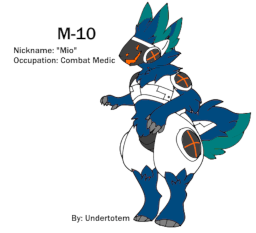 M-10, nickname Mio, is a Combat Medic Protogen, his personal task is to travel the unknown universe in search for various materials, herbs, healing agents, antidotes, etc. in order to expand the knowledge in medicine and in medical ways. Part of his personal task is to travel even the most dangerous planets, areas, and biomes, and even try to fight even the most terrifying of abominations just to discover, retrieve, make, and mass produce medicine and healing practices for the benefit of both the Primagen and the Protogen, as well as help peaceful species who need it.
During his travels, his field scanner was left occupied, and was unluckily hit by a stray passing meteor, unluckily hitting the engines, and unluckily falling into orbit in an unidentified planet.
---
I honestly just thought about this and decided to make one, Protogens are cool. Either way this is just something to make for fun.
Drawings bad, don't tell me.
Chapters (2)