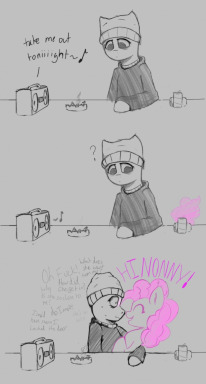 "One of the rewards of life is a pitch black rest"
Always Anon's motto, disappeared 9 years ago to his friends and now shacked up inside a shelter, while the staleness awaited his impatient will to live, he's tired and always fatigued due to the basal sour floor that gathered from his sessions of breakdowns.
All was about to end until a cheerful mare broke inside his home and instantly tries to befriend him. pink flashlight and dark corridors ensue.
---
This conceptualize during Valentines day and later made for a group
Chapters (1)