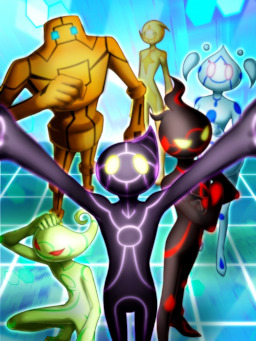 Source
Duel Monsters.
A card game that has taken the world by storm. Ever since its creation, players of the game, known as duelists, compete worldwide to determine who is the best. As popularity grew, so has the format. What started as tabletop games transitioned to holograms, then AR, and now they've taken over the virtual realm known as Link Vrains.
However, the digital realm has secrets best left untouched. And when they are threatened to be unraveled, the guardians, the Ignis, seek out partners to help protect them. Fate led them to find the Rainbooms and a few others that they found themselves compatible with. With AI and human allied together, they must face the evil that lurks beneath the surface of the virtual world and reality.
It is time to link together and face the future! Deck set! Into the Vrains!
A crossover series combining My Little Pony Equestria Girls and Yu-Gi-Oh! Vrains. The series uses elements from Vrains, but I have taken some liberties to make its own world. Links are prevalent, but other summoning methods like Fusion, Synchro, Xyz, and Pendulum will be included. There will also be different master rules used depending on the format.
This story was inspired by countless Yu-Gi-Oh! fics on and off this site. They include:
Monty Eggman's My Little Pony: Friendship is Numerous
Banchee531's Yu-Gi-Oh! Stories
Drakey C's Yu-Gi-Oh! stories
Brony-wan-kenobi's Yu-Gi-Oh! Stories
Night-Quill's Equestria Girls: Duel Monsters
RitsuD95's Regenesis, A Duelist Story
Darthvalgaav's Dueling Around Canterlot
And additional Yu-Gi-Oh! Vrains fics like Hidden Memories
Special thanks to Monty Eggman and Banshee531 for their help in making this story a reality.
Chapters (1)