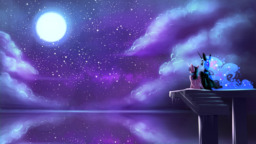 Source
After getting use to her life back on Equestria, Luna finally finds out about what happened to her child, after she was sent to the Moon. With Celestia's help, she is reunited with her daughter and is shocked about who she turned out to be. Luna tries to explain to her and be apart of her life.
Will it work? Will this changed their relationship, that they already had?
Find out, next time, on Dragon ball Z- I mean... Read to find out
Warning: this is my first story, so please excuse my mistakes.
Chapters (8)