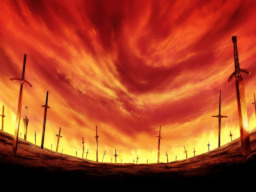 The kingdom of Equestria has been a country loyal to the gods until the current generation, but the gods are not pleased with the current queen.
Queen Luna, tired of serving the gods, has decided to start a rebellion against the authority of the gods.
Princess Sunset Shimmer, adopted daughter of Celestia. Despite having poor health and a weak body, she had a gift, the gift of fortune telling, she had a vision and saw that the fall of Equestria was inevitable, but she also saw that in order for Equestria to be reborn, she would have to sacrifice herself.
Act 0 - The Rebel Queen
Act I - Slaves
Act II - Fallen Gods
Act ? - The City of Beasts
Act ? - Siege of seven days
Act ? - magic is friendship
Act ? - friendship is magic
Act ? - Defense of the hundred
There will be more acts
Chapters (19)