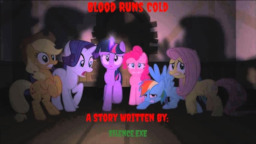 This story is a sequel to The GrimDark Reality
---
As the GrimDark universe creeps ever so much closer to normal Equestria, Silence realizes that unless Rainbow Dash, Twilight Sparkle, and himself find a solution soon, it'll be too late to stop it.
But things get even more dire when the VCR the tapes were playing on begins to show yet another video... One that none of them saw coming.
IMPORTANT NOTE: This is actually the third book in the series. The second book was written by WannaFlugelHorn as a sequel, but I didn't want to copy it, so here's the link to it. Go check it out, and don't forget to check out my original story.
Chapters (1)