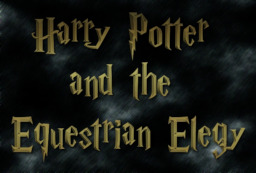 A different choice was made on the Hogwarts Express that day, one that culminated in a series of events that led to a completely disastrous final battle. Harry Potter had finally fulfilled the prophecy that had haunted his life, but at the cost of everyone he ever loved.
Arriving in a new world, bereft of friends, family and his own body, Harry Potter will struggle to once again find a life that is worth living.
Because for the Master of Death, there is no other option.
AN: Hello everyone! This is a little idea I've been cooking in my head for a while and one that I was looking for on different sites before finally deciding to just write one myself. This will most likely have a slower start with the story itself being set six years before the start of the series. Subsequent chapters past the prologue will be focused on this period, though each of the Mane 6 will have their own little roles - one, more so than the others - in particular.
Infrequent updates, though I tend to write longish chapters (usually 8 - 10k), but hopefully I'll be able to keep this going. Regardless, I hope you all enjoy!
Chapters (4)