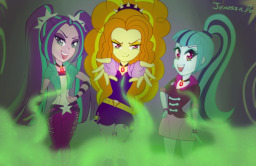 I was a pretty normal guy in freshman year. Had a few friends, liked to improvise songs based on events or surroundings, was a little dark, sometimes acted like I saw and heard things that weren't real.
But all that changed when I was given that stupid ruby. I didn't even want it! At least I can still sing.
---
Takes place after Rainbow Rocks.
Also takes place after Friendship Games.
Chapters (3)