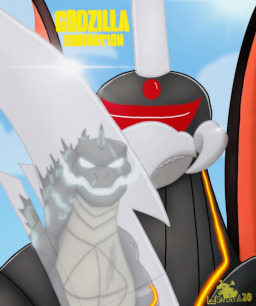 This story is a sequel to Godzilla: Clash of the Titans
---
It's been three years since Godzilla and the Main 6 banded together, defeated King Ghidorah, and saved the Crystal Empire from facing anhilliation. Equestria was calm and peaceful once again. Keyword: was.
Things get hectic when a power-hungry alien race arrives to Equestria with the intent to take it as their new home. These extraterrestrial invaders didn't come alone, however. They brought major firepower in the form of two deadly heavily armed cybernetic Kaiju ready to wreak havoc on the pony way of life. As the aliens' Kaiju demolish several of Equestria's cities and towns, the Main 6 and Equestria's diarchs find themselves helpless to stop their rampage. However, the alien invaders soon find out that Equestria harbors its own Kaiju.
And they are not very happy about aliens wrecking their home.
Chapters (7)