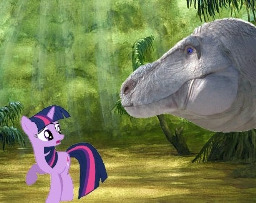 How did everything go so wrong? Twilight had just been conducting some research on the Elements of Harmony, when Fluttershy came to her talking about some new creature from the Everfree Forest. Only this 'animal' sounds like nothing Twilight had ever heard of. Now, Twilight and her friends are divided both physically and mentally. And to top it all off, it looks like the only way to fix all this is to put her faith in these creatures, these dinosaurs.
---
Prereader: sevenofeleven
Editor and Proofreader: one_shot_wonder (Unavailable), AppleChocolate and raven618
---
This story is a fixfic that took place after the events of season 1, and some of the characters in the future events of the show didn't exist, but it had new characters I made up.
Rated E, but it's Rated PG, which contains some creature action and mild violence
Chapters (3)