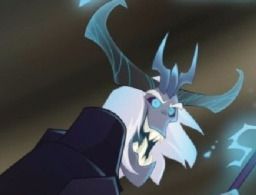 ** PLEASE NOTE: This is an extended-universe MLP story, which means it will primarily involve the races outside of Equestria for the most part. Most of this is post-movie headcanon, so, proceed with caution. **
A feud is taking place beyond Equestria, to the southernmost part of the world, where three countries have been in racially-induced troubles for the past few decades. Unfortunately for them, there is an ancient evil of unspeakable proportions that has been sleeping within their soil since ancient times, and it is threatening to surface and show its face at long last, destroying the surrounding areas in the process. However, there is a prophecy passed down through generations; through an ancient artifact of great power. And when an unknowing cult revives the Storm King, the wheels are set in motion.
Seven souls will embark on a long, incredible journey to thwart the ancient evil and send it back down to where it belongs once and for all.
And the combined power of three champions will save the day.
...But first, the newly-revived Storm King must go head-to-head with his demons, literal and figurative, of the past and present.
And that is not going to be an easy task.
Chapters (15)