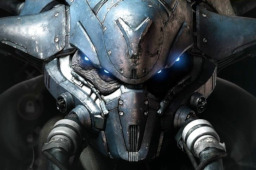 Source
Featured 6/7/2015 ~ 6/10/2015
Featured 9/9/15
(Was rewritten under orders from a moderator due to the infamous Dropbear incident, said it was a carbon-copy of his work but honestly how many times can you describe something and not have people say you copied them?)
Greetings...outsiders...my name is Skolas, Kell of Kells, the Rabid, the Wolf Kell. But to those that actually know who I am then my name is Ian, scrub lord in the department of game creation and sadly the newest resident to this new land called Equestria...sounds like a strange European band.
And so there I was with my friends from college, we decided after much debating, coin flipping and two rounds of roshambo to go dress up as the characters of the game Destiny. I decided to go as Skolas because one I like the color blue, two cause I like the way he looks and three because I think he is a total badass as my friends either dressed up as their guardians, Omnigul and for some reason that creepy guy that only appears on Fridays that takes your crappy strange coins.
It was during this convention that all five of us went to that something strange happened, with my wallet full of cash from my job I went out to look for a souvenir to bring home, what I was not expecting to see was a small booth with a strange looking merchant. Of course I just had to buy something and seeing how my large cape had a clasp I might as well take the one that looks just like it, strange thing about my new clasp is that it looks like a unicorn's head with wings coming out of it...must be a strange sigil of some kind, eh at least it matches the colors.
Now this would have made my day a whole lot better if it wasn't for the fact that once I put on my new cape clasp and pocketed my wallet did my head started to feel light and everything began to turn blurry before everything went bright and then black. I wake up to find myself in the middle of nowhere with snow going for miles in every single direction.
I hate my life so much sometimes...
Destiny Characters belong to the owners of Destiny.
Rated T-M for Strong Language, Violence, References, Crude Humor and if I feel like making it Rated M, Naughty Times.
Looking for any alternative cover-art if you are interested of hunting for one for me. IF you do find me one that can work then you will get your name placed into each chapter as the man/woman for finding me a new cover.
Crossovers with: None so far
Chapters (12)