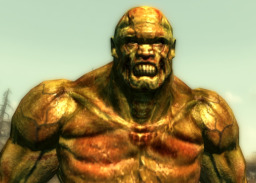 Source
Uncle Leo, a super mutant who was made in Vault 87, who left due to being different than his brothers.
He has since gone off to wander the wastes of the Capital Wasteland searching for meaning in life.
Until, one night, he sat down and looked at the night sky, wishing and wondering for a better world to live, to thrive in, and if there was ever such a thing.
Unbeknownst to him, he got his wish.
This is my attempt to create a fallout crossover, but with just one person. (well, super mutant)
The reason I did this is that I like whole-some stories and since no one has attempted this (with uncle Leo)
before, I thought I'd take a crack at it!
This is my second story so far on Fimfiction!
As per-usual, Feedback and Criticism are welcome!
Chapters (1)