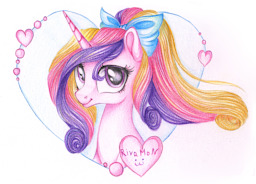 Source
This story is a sequel to I Found Love: A Princess Cadence and Shining Armour story
---
It's been a year since fourteen year old Princess Cadance left Canterlot and the colt she loves. When she returns, she needs to face the realities of becoming a princess and how that will affect the relationships around her. It is a reunion not without its share of difficulties, and there are some ponies who would rather she not take the throne, but the love of those who care for her will always see her through, and she will take her place as one of Equestria's newest princesses.
---
Prior reading of I Found Love: A Princess Cadance and Shining Armor Story will be needed to properly understand this story.
---
Cover art by RivaMon - I'll draw my own later...
Chapters (3)