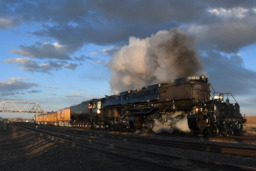 In May of 2019, a dedicated group of Volunteers for the Union Pacific Railroad after over four years of hard work finished a task that no one thought would ever happen. They brought back to life one of the most legendary steam locomotives that the world had even seen, the Big Boy!
But as the group of volunteers make their way onto the mainline for the inaugural run, a strange occurrence begins to form on the tracks in front of them. What in the world could it be?
Whatever it is, on the other side is a world that is blown away by the sheer size and power of the mighty engine. Some are excited and there are those who think it may become a threat to their daily jobs.
The main star of this story is the Union Pacific Big Boy #4014, who just recently returned back to steam for the first time in 50 years and now holds the title of the largest operating steam engine in the world!
Hope you all enjoy.
Chapters (1)