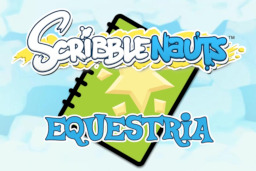 Source
As Twilight re-shelves the books in the Books and Branches Library, her home for years, she comes comes across a strange notebook. A notebook with untold power, rivaling the powers of alicorn magic itself. The power within it could turn anypony into one of greed and power, corrupting the pony's mind with its power. In the wrong hooves it could rain chaos. If used in a just way, could aid thousands of ponies in need. But if used by Pinkie Pie, Celestia help us all. Twilight decides to keep it to herself, fearing what could happen if it fell into the wrong hooves.
But can she protect it from herself?
Shenanigans ensue.
Cover Art: The fabulous Landmine
A/N: I got this idea after buying Scribblenauts Unlimited today, and I couldn't resist doing it.
Will add tags as the story goes on.
Chapters (4)