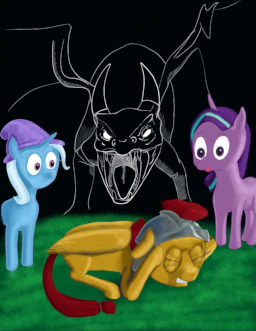 Everypony remembers the tale of Flash Magnus, the pillar of bravery who saved his fellow cadets from the dragons, earning him his title and the shield of Netitus.
He remembers too. He still remembers to this day.
And there is nothing he can do about it.
---
Based off the "Ghost in the room" prompt from Bean's writing group. And now time to give the special thanks to these beautiful people because they are beautiful and everyone needs to know it.
Lysanderas, shirlendra and bean for their help in editing and fixing this story. Wouldnt have been possible without them!
Special thanks to the rest of the group too. Stay classy you all!
Cover art by short-tale. Thanks to you too!
Chapters (1)