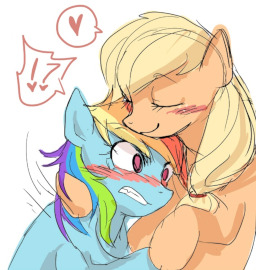 Silly shipping with a slice of slapdash snugglery.
Rainbow Dash decides to delve into the depths of expression through emphatic embraces with her friends, because hugging is magic. If it just so happens that Applejack seems to be the superior snuggler, well, who is Dash to turn down a challenge?
The actual story contains a lot less obnoxious assonance than the title, but c'mon, doesn't it just roll right off the tongue?
Written for the delightfully dapper DbzOrDie and long, long overdue. Better late than never, right? Uh, right?
Chapters (3)