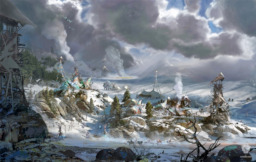 This world isn't as it once was. Humanity is no longer the dominant species on the planet. They now fear the Old World, knowing full well the destruction caused by their ancestors.
This is a world dominated by machines. Humanity simply lives in it.
Yet, even in such a world, some search for answers to questions better left unsaid.
Even in this, daily life is a struggle. A young mare and her human sister know this all too well.
---
Just a short idea that popped into my head. A Crossover with Horizon: Zero Dawn. Inspired by Tatsurou's PWNY-verse.
Now with a reading by StraightToThePointStudio. (Remastered)
Chapters (1)