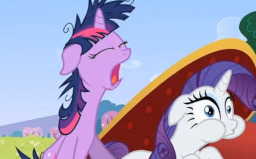 Source
With the help of some whining complaining, a burning crepe, and eyeliner, Rarity convinces Twilight to switch places with her for a while so she can catapult herself onto the royal scene. She discovers that the royal life isn't exactly what she wanted, meanwhile Twilight enjoys her new body a bit more than expected.
Spike, unaware of the swap, decides to make a move on "Rarity". Whelp.
Rated SSS Teen for Sloppy Surrealism, Subtle Sexual innuendo, Some Swapping Shenanigans, Smoking Stallions, Schizophrenic Style, and Singing.
Not a trollfic, just a romantic comedy cowritten with the ghost of David Foster Wallace and edited by my medicine cabinet.
Footnotes are entirely optional if you hate fun.
Chapters (2)