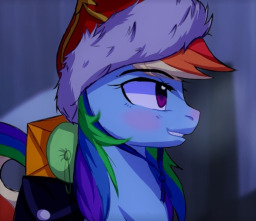 Source
Mistle-what? An innocent question on an otherwise normal Hearthswarming Eve sends you on a short journey of introspection with your best friend. The closer you get towards discovering the truth about yourselves, the less sure you are of what exactly the holiday tradition of "Mistletoe" actually means, and you begin to wonder whether the innocence or question that sparked it all was actually there to begin with.
Special thanks to DE_K for editing!
Featured on 11 March 2021 - Awesome! Thanks for all the attention! Though I think you made Dash blush...
Chapters (1)