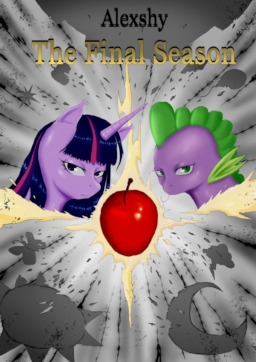 The final season of MLP:FIM is announced. Spike has worries, like many fans here, and Twilight reassures him. She tries herself in literature as well. The question is: whose writing is... stronger?!
This story is a one-shot response to the [not so]recent news about Season 9 being the "swan song" of the show and specifically the hype it caused in the community. After watching tons of posts: from adequate and reassuring ones (saying that FiM is now more the community than the official show) to panicking or even trollish (in scare-mongering style). Obviously, I couldn't let it slide past me and decided to provide mine own insight.
The story [ab]uses the "noosphere concept" introduced in The Guardian book, adding some new perspective to it. But it can freely be read as a separate thing.
I admit, I had a fair dose of spiteful fun


Don't judge it overly seriously, folks! Mind the "Comedy" tag.
All similarities with the real persons, living or dead, are entirely coincidental.
Chapters (1)