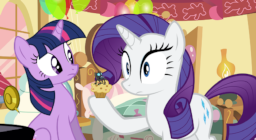 Source
Cricket Chirper is in trouble. He's a bit of a coward, you see: after getting his buggy rump kicked by six certain mares in Canterlot, he wasn't too keen on having to face them again. Well, when an order came down to attack Ponyville some time after the failed invasion of Canterlot, Cricket wasn't too keen on getting the tar beat out of him again.
So, he ran and hid in Manehatten. In other words, he disobeyed a direct order from his Queen.
Naturally, Chrysalis has a nicely evil, wonderfully sadistic punishment in mind for him...
(Has some references to the IDW comics, but reading them isn't necessary to understand this fic.)
Cover image is my own work.
Chapters (3)