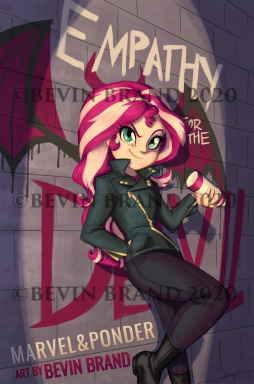 Sunset Shimmer and her friends receive remarkable news: Princess Twilight is poised to become the queen of all Equestria! As the girls celebrate the invitation to their friend's upcoming coronation, Sunset's horrified to find that she's not just selflessly happy for her best friend. If not princesshood, what's she meant to do with her life anyway? What's her destiny in the human world?
As Equestrian Magic grows more powerful due to an ominous, inter-dimensional rip in space-time above Canterlot High, Sunset's friends are affected by a dangerous, new magic and she's left to wonder if she's done more harm here than good.
This story is a sequel to The Exes Club. Helpful, but not required reading. Themes and ideas introduced there are developed further here.
Story development, visual direction, and illustrations by the badass Bevin Brand.
Editing and support by the lovely Space Jazz and LordJanitor.
Special thanks to one of my best friends, Bookish Delight, for her immeasurable support, guidance, and all around awesomeness.
Featured on June 2nd, 2020
Featured as a Scouted Fanfic on Equestria Daily June 5th, 2020
Tagged with Sex for sexual discussion, no graphic depictions. Tagged with Profanity because teenagers.
Chapters (15)