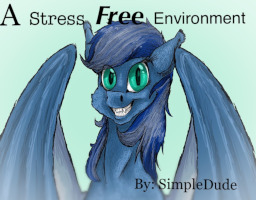 You know when you are really stressed out and need a bit of a break from the real world? Well Josh sure thought he needed a break, at least until he got exactly that. Ever wonder what it's like to meet something magical and amazing? A bat pony maybe?
Josh sure wishes he never did.
Cover art by Grim_Grin.
Thank you editors!
Current editor:Myself
Past editors:JackRipper
Special thanks to MV for helping me get my story started out.
Chapters (12)