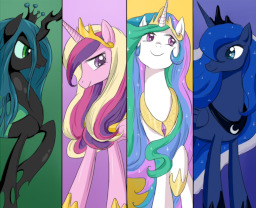 Source
Celestia sends Twilight a very special book that contains some of the oldest and most powerful magics known to ponykind. Included in the book is the way by which alicorns are created. Twilight visits her teacher in Canterlot to learn more, but gets much, much more than she bargained for.
I wasn't really sure what to tag this story. I chose the adventure tag because I see this story as an intellectual adventure for Twilight. Let me know if you think it should be something else and I'll change it.
Big thank you to GorisTheDeathclaw (my editor) for putting up with my typos and grammar fails, and for helping me in writing this. Also edited by my brother, but he's not worth mentioning.
Chapters (7)