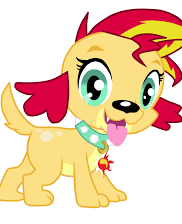 Source
Sunset Shimmer. The girl who wants to take over the world. But, Celestia will not let her. So she jumped through the Mirror to the human world, where there would be no ruler to stop her. World domination would finally be accomplished!
But there is one problem - the portal turned her into a dog.
---
This is a story inspired by this prompt.
Chapters (3)