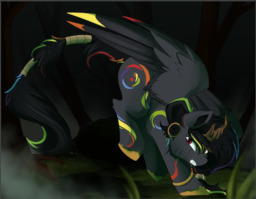 The world is plagued by monsters. Ponies hide in fear from these monsters, desperate for their continued existence. Wild Hunt is an Alicorn, an avatar of the spirit of harmony, and has a desire to hunt these monsters. born from the collective desire for safety, he'll go on to make his mark on the world, doing what he feels is right.
---
Right, first off, this story is a commission. getting that out there right now so that I'm not hiding anything. Second, the monsters are mostly based on Final Fantasy monsters, with a few original ones sprinkled in later on down the line. Third, I really hope ya'll enjoy this as much as I do, because while money is great, I want this to be enjoyable. I wouldn't have accepted had I felt I couldn't make it something I myself would be proud to put out.
More tags to come as the story progresses.
Chapters (1)