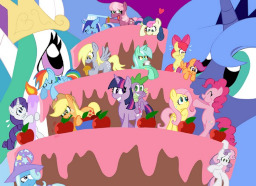 Source
A thousand years is a very long time to be isolated and cut off from social interaction... Luna has shown remarkable coherency of mind since her return however. Her secret? She was never really alone on the moon.
After a shaky argument with Celestia sends her storming off to her chambers, old friends makes their return.
When you're a unicorn with immense magical powers, imaginary friends aren't quite as imaginary as one would think.
For best effect: Listen to this piece.
additional tags: short, v.random, silly. I just had.. to get this out of my head...
Chapters (1)