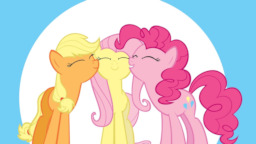 Source
Dictionary.com definition of relationship (which is always a noun):
1. a connection, association, or involvement.
2. connection between persons by blood or marriage.
3. an emotional or other connection between people.
4. a sexual involvement; affair.
3 sounds about right...right?
Pinkie Pie knows she would never be who she is today without Applejack and Fluttershy by her side. But are they her best friends? They don't feel like her best friends, that seems like an understatement. They might as well be one pony; their intuitive knowledge of each other, their intimate moments, and That One Time We Shall Not Discuss have led them into a bond closer than any other pair/group of best friends could ever hope to reach. But they definitely aren't dating, so what gives? Pinkie decides to set the bar straight.
Contains: mentions of sex, friends with benefits, orientation discussions, queerplatonic/quasiplatonic relationships, deep discussions, REALLY GOOD FRIENDS I TELL YOU
Set in an alternate universe where the Elements of Harmony either don't exist or they have different bearers. Twilight still lives in Canterlot, Rainbow Dash still lives in Cloudsdale, and Rarity has moved to Canterlot to advance her business.
Chapters (1)