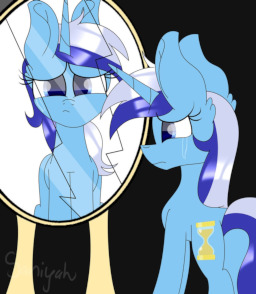 Source
Minuette, cheerful and sweet, as bubbly as toothpaste, and as friendly as anypony in Equestria. But there is something beneath the surface, something broken, torn and ragged. So broken for so long, she has become numb to the pain. Minuette has lost almost everything she had cared about. She has spent so long hiding this pain, that the littlest thing could upset the balance and renew the pain she has burying for so long.
But perhaps there is still a light at the end of the tunnel.
My cover was made by this awesome person Here and I got the idea from this awesome youtube video! You should totally check it out, this guy is awesome :D
Right here!
Chapters (1)