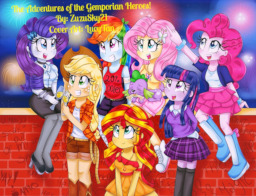 This story is a sequel to Voyage Of The Unforgotten!
---
Just when the fun couldn't get any better!

Join our characters as they have new adventures each day! 16 episodes of laughter, drama, and some lovable moments as our heroes, Rainbow Dash, Soarin, Pinkie Pie, Twilight, Sunset, Rarity, Applejack, Fluttershy, and the rest of their Gemporian friends have the time of their lives at their first Winter in India. Will they be battling new monsters? Will they seek revenge on a villain? Will there be romance? A new rival? Hmmm, we shall see!
New Episodes may be published on any day, depending on school schedule~ So be on the look out~ Based on my GemporianVerse! This is not canon!!
PLEASE DO NOT STEAL OR COPY ANY OF MY STORIES!!!!! I WILL REPORT YOU!!
Series Premiere: March 17th, 2019
Chapters (3)