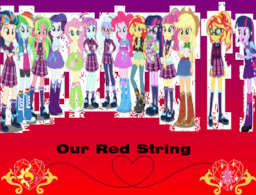 Source
Okay! This is going to better than my other story and a big thanks to DinKaiser, Stardust_Shadow and RS-Belle14 for boosting my confidence to write this. And the story might not be what you expected because I had made some changes.
After Twilight's first day at Canterlot High, they head to her house, which is where they discuss important topics, such as introducing Sunset's counterpart, the activities they will be doing tomorrow, and something about the Red String of Faith. On the activity day, they meet Sour Sweet, Indigo Zap, Lemon Zest, Sugarcoat, and Sunny Flare. After their fun, the 5 Shadowbolts were invited to the sleepover which ended up in a discussion of the Red String of Faith. Surely, Sunset and Twilight would confess something about the topic and let the girls dismiss the topic, right?
Yeah... Since I don't have the proper amount of knowledge on Human Sunset, I will just throw in the amount of knowledge I got from a picture(She's a Shadowbolt, really popular, and wears glasses)
Princess Twilight and human Sunset will be there too.
RariJack, FlutterDash, LemonZap, SugarFlare, and PinkieSweet ships are involved.
Sex Tag is used for jokes and/or kissing or... you get the idea.
Chapters (2)